What's the Disney Hulu Story?
The "House of Mouse" has done a great job building its media empire over the last 100 years. Today, Disney owns a staggering variety of content. From movies and television shows, to news, and live-action sports channels.
At the same time Disney's library of content expanded, so did the company's technology infrastructure.
To compete with the likes of Netflix and Amazon, Disney launched the now-popular Disney+ in 2019 while also acquiring majority control of Hulu (and its body of licensed content). The significance of the Hulu acquisition was great, given Hulu is the largest CTV (Connected TV) app of ad-supported content.
| | | |
| --- | --- | --- |
| Notable Disney Acquisitions | Year | Purchase Amount |
| Pixar | 2006 | $4 Billion |
| Marvel | 2009 | $4 Billion |
| Hulu | 2009 (Majority control in 2019) | $27.5 billion |
| Lucasfilm (Star Wars) | 2012 | $4.06 Billion |
| 21st Century Fox | 2019 | $71.3 Billion |
Disney+ gave the company a way to monetize that big library of movie content, while Hulu gave Disney a way to capture value around more traditional television content delivered "over the top."
With a body of entertaining content and consumer-friendly streaming platforms, the brand just needed a way for advertisers to start spending money.
Enter Disney Advertising, and Disney XP (DXP).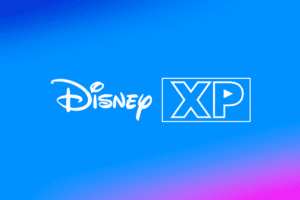 What is Disney XP?
Launched in 2020, Disney XP (or "DXP") is a unified OTT video ad solution that allows advertisers to reach audiences across both Hulu and Disney's TV networks.

What's particularly cool about Disney XP is that it gives smaller brands access to premium inventory, including National Geographic, ABC, ESPN, FX and more.
Remind me again, what's OTT?
OTT stands for "over-the-top" and refers to the delivery of video content over the internet, without the need for a traditional cable or satellite television subscription. OTT content is typically accessed through a streaming service or apps, such as Hulu, or Amazon Prime.
Does OTT advertising work?
Data from Disney XP suggests that campaigns run through their OTT platform can have a positive impact on brands in the following ways:
+19% – Builds awareness
+13% – Increases favourability
+21% – Drives purchase intent
Which content placements are available?
DXP allows brands like yours to access and place media across Hulu, ABC, FX, Disney, ESPN, Nat Geo, Freeform, and more. This includes access to live sports from ESPN+ with live sports streaming across all leagues–NHL, College Football, NBA, and more.
What are the ad specs for Disney/Hulu?
The following spec sheet covers digital ad-served video in all positions on all platforms for DXP buys:
As far as we can tell, the Disney XP media spec sheet was last updated in November 2022.
Is advertising on Disney/Hulu right for my brand?
That depends on your goals, strategy, and budget.
If you're interested in learning more or want to access DXP inventory, we can help you make the most of this tactic.
Contact us today and speak to a member of our Digital Media team.
*Note: While formerly called "Disney Hulu XP" (DHXP), as of early 2023, it seems as though the company is dropping the "H" in DHXP acronym, and simply going with Disney XP (DXP).