While we don't believe in merely following the latest fads, tracking consumer interest and buying trends can help you strategize and drive sales in ways that are meaningful for your business. Here we've provided some of the biggest trends we are seeing coming into 2021.
---
1. Going Greener
Remember the 3 R's? Reduce, reuse, and recycle. A shift in consumer demand and an increase in awareness when it comes to social responsibilities, both corporate and individual, are keeping those three words front of mind.
A few areas we expect to see growth in 2021:
Upcycling:
According to Forbes, the Upcycled Food Industry was worth an estimated $46.7 billion in 2019. As awareness around environmentalism and food disparity grows, so do producers response to these challenges.

More processors are tackling efforts to reduce poverty and waste through innovation, education and reimagination. As a result, we will see increasing changes in consumer purchasing behaviour.

Eco-friendly designs:
According to Global Web Index, 61% of millennials are likely to pay more for eco-friendly or sustainable products. The trend towards sustainability in all manners of consumerism is only growing. There is little doubt that recyclable, biodegradable and compostable options are the future of packaging.

Sustainable practices:
This focus on protecting our planet will continue to expand and innovate farming and processing practices. What does this look like? A focus on water conservation, reducing energy consumption, a concern for association credibility, and necessary price premiums to start.

Driving consumer demand to pay for these price premiums is part of the challenge, but actioning sustainable practices in market is increasingly a mountain all growing brands must climb.


Emphasis on local:


Supporting local became somewhat of a consumer mantra in 2018 and again in 2020 due to the pandemic. We all know at least one small business saved because of this shift in consumer intention. Shoppers are more aware of their local economy, and the ways in which they can support it.

Clean, nourishing food locally sourced, is a parallel trend that further incentivizes the Buy Local shopper.
2. More Authenticity
Consumers are interested in brands where what you see is what you get – both on the shelf and in advertising. Building consumer trust is going to come primarily through authentic brand representation and transparent messaging.
Consider both transparency of ingredients and a candid social presence. More than ever, people want to know what they are buying, what they are eating, and who they are buying it from. They also want to know that the inputs are humane and sustainable.

For years now, caloric intake and nutritional information have been front of mind. But consumers now want to know the ecological footprint and origin of ingredients. In the same vein, consumers are looking for transparency and authenticity in the brands they choose to follow on social media. Overly produced and perfectly posed social media accounts are not in vogue going forward. Embrace a lifestyle component with real stories, behind the scenes, dialogue and a community strategy What sense of health, wellness or impact are your brands communicating?

Consumers want real ingredients, and to know there are real people and stories behind the products they buy. For us in the food and bev industry, finding the human connection shouldn't be hard.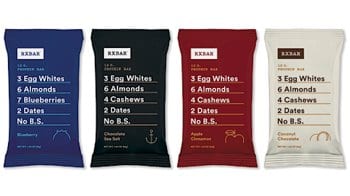 3. Resurgence of Single Serve
Yes, this trend is at odds with sustainability. But due to strong consumer motivations such as safety in a pandemic, busy lifestyles, and portion control, consumers won't be demanding bulk packaging as often. Considering the focus on sustainability, we can expect some exciting innovations to originate out of the necessity to marry these trends.
Look for on-the-go friendly opportunities, such as squeezables and protein packs, and snack-sized versions of favorite food products. There is a lot of opportunity here for the food service and wellness industries to pivot into pre-portioned packaging with environmental solutions.

But don't expect the trend to stop at packaging. In terms of distribution and shelf life, the automat (innovation to the vending machine), will bring ease of shopping, a small footprint and will cater to a rise in individualism.

Braden Douglas, Crew founder, has predicted that the automat will make a resurgence in urban North America by 2023. Mark your calendars!
4. Plant-based Nutrition
It turns out, we love eating plants! 2.3 million Canadians classify themselves as vegetarian. 850 thousand classify as vegan. And, in 2020, 62.4% of all Canadians stated they are willing to consider or fully commit to reducing their meat consumption.
Whether it's for moral, religious, dietary reasons, environmental impact, or an effort to better nourish and fuel your body, plant-based options are growing and consumers are eating them up. Expect that plant-based messaging and offerings will continue to pick up speed, leading to rising demand for product alternatives such as chickpea flours and pasta, meatless seafood, vegan cheese, plant-based creamers and more.

The greater diversity on shelf, the more consumers are willing to consider them viable options – and so the cycle continues.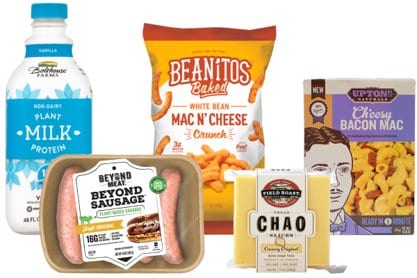 5. Making an Impact
At Crew, we believe that making an impact, regardless of industry, is something most people are looking for – whether they realize it or not. And numerous studies back it up, primarily for incoming generations. The potential for impact in the food & beverage industry is incredible and learning from 2020 we see just how prevalent those opportunities are.
91% of global consumers expect a brand to address social & environmental issues, according to a Cone Study in 2015.

This last year was no exception – in fact, one could safely assume it drove expectations even higher. Cause marketing is a fantastic strategy to engage consumers, the trade, and your employees while still reaping great benefits for the brand and community at large. If you haven't before, now is the time to align your Mission & Values as a company. Join in the conversation with consumers and retailers. Be authentic in the discourse, and be prepared for diverse opinions and feedback. If you need help getting started, we are passionate about this focus, and would love to talk.
6. Functional Foods
Probiotics, adaptogens, CBD, fermented foods…functional foods are taking the food & beverage world by storm, and the global pandemic has only intensified this already growing trend due to a focus on overall health. Food and drink with "beneficial or 'functional' ingredients that may improve health or treat or prevent a future health issue" are on rise. (Lyon Magnus Top 2021 Flavor & Trend Predictions).
Some example of functional foods we will see more of are:
Hard kombucha
Sauerkraut
Bone broths
Mushrooms
Turmeric, Ginger & green teas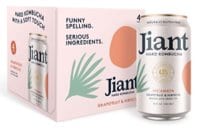 7. Breakfast Reimagined
We all spent more time at home this past year than we anticipated, and one silver lining was the resurgence of breakfast. It seems that without the commute, people are leaning in and experimenting again with the 'most important meal of the day'.
From prepackaged smoothies, vegan dairy products, savory waffles and emphasis on eggs, we are see an overwhelming amount of innovation in the breakfast space.
"There's a whole new lineup of innovative products tailored to people paying more attention to what they eat in the morning." (Whole Foods Top Food Trends 2021)
Flavours to look out for include: Berries, cinnamon, maple, cocoa and matcha.
8. Comfort Food & Flavours
The flip side of being at home is people have more time to snack – and have new reasons to lean on comfort and escapism. With fewer recreational activities, people are willing to spend more on groceries, splurging on nostalgic comfort foods from years past or experimenting with homemade dishes.
Think nostalgic flavours like cereal milk and birthday cake and comforting dishes such as pasta or bread.

With the right opportunities to learn cooking from home, an uptick in condiments, spices, interesting oils, and exciting flavour profiles is already happening. Someone else's comfort food from their childhood may just become your new kitchen experiment.
9. Mighty Micro Influencers
In 2020, nearly 2/3 of marketers planned to increase their spending on influencer marketing. Great influencers strategies is not limited to big celebrities, the micro influencer trend is a great opportunity and strategy to jump on board with.
Micro influencers have higher conversion rates than their big-named celebrity counterparts, driving 22% more sales conversions. With often-localized followings, these strategies can support distribution gains in a way celebrity-based influencer campaigns can't. And for much less, which stretches already tight marketing budgets. Consumers want to interact with brands through stories, inspiration, and accessibility and micro influencers are a great way to deliver it.
10. Feeding the Digital World
We spend a lot of our time online. A lot. And more-so now that a pandemic has asked us to stay indoors and stay safe. It follows that grocery-shopping would go online, as well. In fact, 2020 saw a 300% increase in online orders for Loblaws and Metro, alone. The percentage of Canadians consumers who buy groceries online doubled from 15% in 2019 to 30% in 2020.
Food and beverage was the fastest growing online category last year, and is estimated to hit $26 billion in 2022. The key problem? New product discovery online is only 30% compared to 60% in-store.
If you're in need of an online pivot, we can help strategize how to approach both the opportunity and the problem and find a way to make it work for you.
---
Abraham Lincoln once said, "The most reliable way to predict the future is to create it." Our goal as food and beverage marketers is not to simply chase industry trends, but to help set them. By paying attention to the interests and needs of consumers, we can better anticipate the growth opportunities that are right for every category.

If you're curious about how the food and bev trends for 2021 can be a growth opportunity for you, or you need to reimagine your strategy, let's talk.